Innovation also means reorganizing our operations to the benefit of our customers
In order to match our customers' requirements as closely as possible, we have reorganized our operations and now offer an even broader product spectrum from a single source.

In addition to technologically advanced servo motors, we also provide highly sophisticated drive electronics and complete mechatronic drive systems from a single source.

With the iTAS®, our portfolio now includes the first fully scalable modular drive system for driverless transport systems (DTS). The linear and rotary actuators of the ternary® series with integrated electronics are now also included in our product range with immediate effect.

With our combined motor and electronics expertise, we are prepared for innovative mechatronic drive solutions for the future.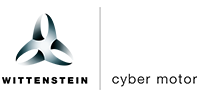 WITTENSTEIN cyber motor GmbH
Walter-Wittenstein-Straße 1
97999 Igersheim
+49 7931 493-15800
+49 7931 493-10905
New in the product portfolio