cyber® kit motors – frameless servo motors
compact – dynamic – highly integrable
cyber® kit motors offer the ultimate performance and flexibility in a compact size. Stator and rotor kits give the design engineer the highest degree of integration freedom to develop unique solutions for application specific needs.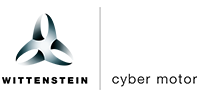 WITTENSTEIN cyber motor
Walter-Wittenstein-Straße 1
97999 Igersheim
Your Benefits
Compact design
Maximum torque density
Power density up to 10 kW/kg
Low axial length due to minimized height of winding head
Efficiency
Low power losses
Low mass inertia
Increased heat dissipation
Robustness
Potted stators
Test bench for frameless motors
Extended and customized testing
Suitable for integration
Support with integration (magnet retaining sleeve, insertion fixture)
Customer-specific interfaces (mounting pattern, motor shaft, etc.)
Expansion of the scope of delivery to provide a ready-to-install system
Precision
Optimized synchronization characteristics
Low torque ripple
Minimal cogging torque
Flexibility
Stator diameters from 19 mm to 440 mm
Voltages up to 750 VDC possible
Power & torque-optimized versions
Integration in the overall system
We simplify and speed up integration in your application.
Maximum efficiency and superior performance data in a limited space are typical requirements for frameless motors. We can help you achieve ideal integration in your system. We can modify the interface and/or scope of delivery to ensure reliable and cost-effective installation.