simco® drive with TPM+ dynamic/power actuator
More compact. More precise. More dynamic.
The TPM+ in the dynamic & power design can be used in sizes 004 and 010 with the simco® drive servo drive. 24 VDC and/or 48 VDC can be used for the intermediate circuit voltage. A holding brake, a resolver and an EnDaT 2.2 feedback interface are available options. The TPM+ are designed either with angled or straight integral sockets.
Downloads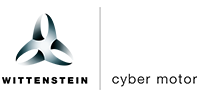 WITTENSTEIN cyber motor
Walter-Wittenstein-Straße 1
97999 Igersheim