cyber® power motor
powerful – compact – easily maintained
The cyber® power motors are high-performance servomotors, which are characterized by their outstanding power-to-weight ratio and their efficiency.
When throughput matters the most, the ability of servomotors to accelerate faster is often the limiting factor. Our cyber® power motors can be designed with an ultra low rotor inertia, which allows for much faster acceleration rates than traditional servomotors.



With cyber® power motors we are a worldwide partner in the Encompass program of Rockwell Automation.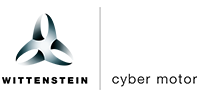 WITTENSTEIN cyber motor
Walter-Wittenstein-Strasse 1
97999 Igersheim (Germany)