Semiconductor, Flat Panel Display, Electronics Assembly
In the Semiconductor and Flat Panel Display (FPD) industry as well as in Electronics Assembly, where reliable and precise mechatronic drive systems are crucial, WITTENSTEIN is your experienced and innovative partner. Based on our experience in a broad variety of industry sectors, we can provide deep knowledge of your applications and requirements.
From the wafer production to Frond-End and Back-End processes. From display manufacturing to Electronics Assembly and to intralogistics and automation. WITTENSTEIN can provide tailored drive solutions for all your applications and needs.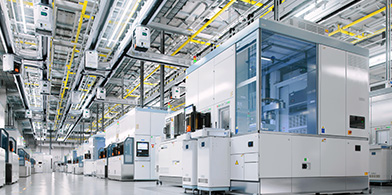 Our Product recommendations
Here you find a representative overview of our standard product portfolio for the industry sectors Semiconductor, Flat Panel Display and Electronics Assembly. In addition, WITTENSTEIN also offers customer-specific drive solutions. Please use our contact form to get in touch with us. We are happy to understand and discuss your requirements!
Is there anything you'd like to know about Semiconductor, Flat Panel Display, Electronics Assembly. Do you require personal advice?
If so, please contact us directly. We look forward to hearing from you!