cyber® hygienic motor – Motors for food industry
reliable – hygienic – efficient
The brushless servo motors designed for food and beverage industry provide outstanding reliability and efficiency. Featuring a high-grade stainless steel housing and a proprietary hygienic design they conform to EHEDG and 3-A SSI conformity standards.
Hygienic and secure production

Check out our cyber® dynamic line motors for more hygienic options.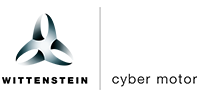 WITTENSTEIN cyber motor
Walter-Wittenstein-Strasse 1
97999 Igersheim (Germany)