Thanks to our ingredients, EIRICH gets the right mix.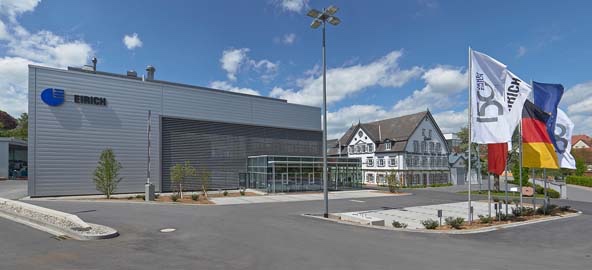 In the area of industrial mixing technology, demand is growing for compact, high-performance drive designs. For its latest generation of laboratory mixers, Maschinenfabrik Gustav Eirich GmbH & Co KG has opted for control and drive technology from WITTENSTEIN. This enabled an 80%-reduction in installation space and weight.

EIRICH – a pioneer in industrial preparation technology.
For over 100 years, EIRICH has provided a comprehensive range of services in industrial preparation technology. Its focus lies on machines, systems and processes related to mixing and fine-grinding. Numerous patents attest to their innovative capacity in this area. Intensive mixers by EIRICH are of an extremely robust and durable design, and flawlessly withstand the stringent demands of the user industry.

We have made the intensive mixer portable.
The EIRICH EL1 is a laboratory mixer for mixing, kneading, granulation and dispersion. Application of our smart drive solutions have reduced installation space and weight by 80 percent. A permanently mounted mixer with switch cabinet was transformed into a small, portable mixer, that weighs only 46 kilograms. The EIRICH EL1 is extremely flexible in use: from development laboratories, to quality control with small sample volumes. A grid-friendly input (100 to 240 V, 50/60 Hz) enables international use – without transformers or power supply units.

System solution
The EL1 is so light that it can be transported in a wheeled suitcase. This EIRICH feature is truly unique on the market. To meet requirements for installation space, volume and weight, our engineers have developed a solution that consists of two motors and a dual-axis controller that are integrated into the mixer. A multi-pole, high-torque motor is used as the mixing vessel drive. For the agitator drive, an assembly is used that is operated at relatively high speeds (up to 7,200 rpm) in the weak field range.

It is controlled by an integrated MINI SPS with a freely programmable touch panel. Thanks to the use of Codesys function modules, programming is simple and easy, while at the same time also highly flexible. This enables the creation of customer-specific control surfaces (mixing process displays) in just a few steps.

As with any development project, numerous challenges arise during the process. However, thanks to intensive collaboration, all objectives were achieved.