cyber® distribution box – distribution module
flexible – compact – simple
The distribution module cyber® distribution box enables a simplified wiring of decentralized drive systems. There are 6 motor outputs available to connect decentralized servo drives of the type cyber® simco® drive 2 and cyber® dynamic system or further distribution modules. Thanks to the high protection class of IP65, the distribution module can be integrated directly into the machine layout. This considerably reduces the cable lengths and the wiring effort, since with power supply and fieldbus communication only two cables have to be routed from the control cabinet to the machine or from the supply module.
Excellent solution for complex drive tasks
6 motor outputs for connecting decentralized servo drives or additional distribution modules
Multi-Ethernet-Interface
Protection class IP65
More space in the control cabinet
Reduced cabling effort
Realization of complex machines with simple topology structure
Easy cabling
The cyber® distribution box is a distribution module for simplified wiring of decentralized drive systems in the voltage range from 12 to 60 VDC.

1 input power supply (rated current 30 A / maximum current 45 A)
6 outputs power supply (rated current 20 A / maximum current 30 A)
2 inputs and 2 outputs for Ethernet communication
Easy installation in the machine without additional encapsulation thanks to IP65 protection class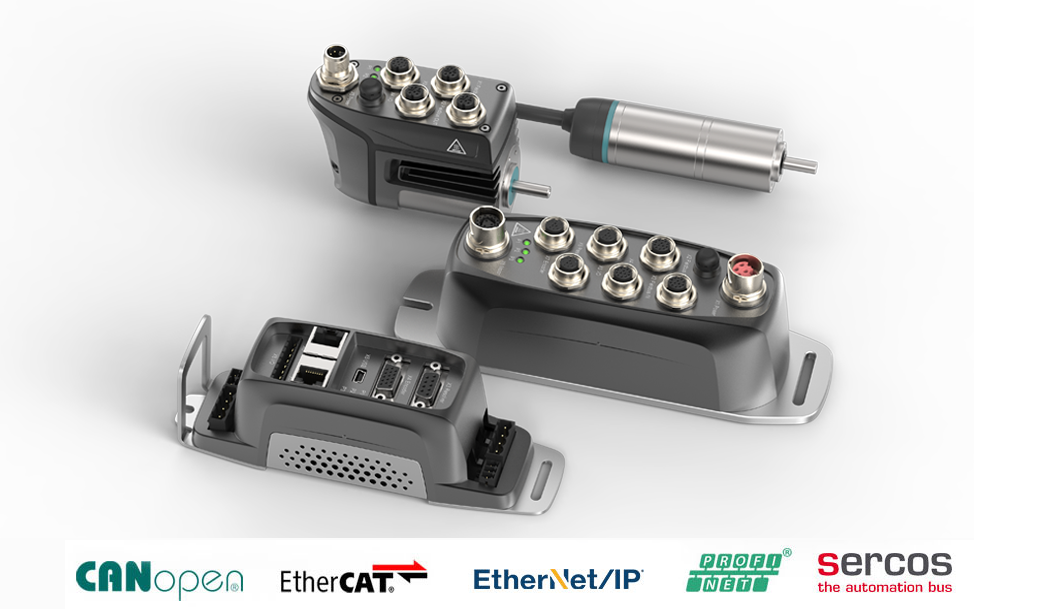 High-dynamic servo motors in the sizes 17 - 40 mm (optionally with gearbox and ball screw drive)
Numerous fieldbus interfaces and decentral intelligence
Safe shutdown of the system in case of emergency thanks to integrated STO (Safe Torque Off) safety function according to SIL3 without loss of productivity
Space-saving installation thanks to stackability and user-friendly pin assignment
Electronic name plate enables automatic and safe parametrization of the motor
Simple installation in the machine without an additional enclosure thanks to protection class IP65
The cyber® simco® drive 2 servo drive, the cyber® dynamic line motor series and the cyber® dynamic system are a complete match in every respect.
You can choose between numerous different fieldbus interfaces for easy connection to your higher-level controller.